Audi 100 inc Avant 43&44 Powerflex Fr Inner Ctrl Arm To Chassis Bushes PFF3-402
Audi 100 inc Avant 43 & 44 Powerflex Front Inner Control Arm To Chassis Bushes PFF3-402
PLEASE NOTE: The Number of bushes included in this listing is 2.
Product Details:
Years of Manufacturer: (06/76 - 12/90)
Quantity Per Car: 2
Location on Diagram below: 2
Part Number: PFF3-402
Years: 06/76 - 12/90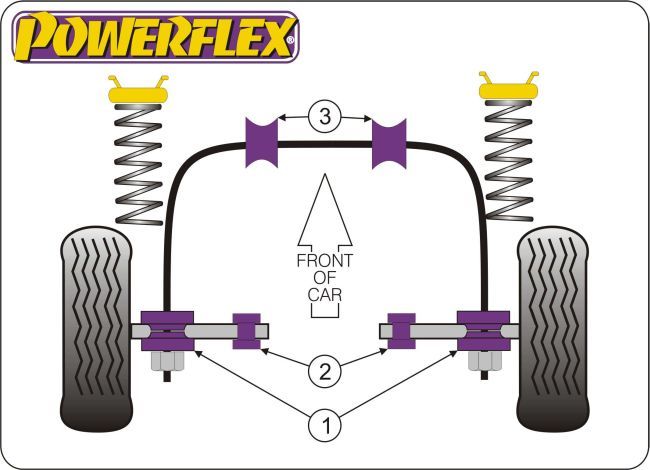 PLEASE NOTE: The Number of bushes included in this listing is 2.
POWERFLEX - No.1 SUSPENSION BUSHES IN EUROPE!!
EPTG Ltd (European Polyurethane Technologies Group) was formed in the UK in 1996 to take advantage of the significant advances made in the development of polyurethane in recent years.

The company has wide experience of automotive suspension and chassis systems and combining these design skills with advanced polyurethane manufacturing techniques led to the development of the wide range of high performance automotive polyurethane components now known the world over by the product name POWERFLEX.

What are suspension bushes for anyway?
Suspension bushes are fitted to cars at all points where the vehicle chassis is joined to a moving suspension component. They are fitted to provide a noise and vibration absorbing barrier between the road and you.

Why are they made of rubber?
Rubber acts as that sound barrier, damping out noise and vibration. Without them cars would feel much harsher and noisier. Rubber is also very very cheap.